M-Scope Walk-Through Metal Detector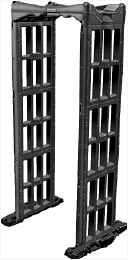 M-Scope Walk-Through Metal Detector is the World's Most Versatile, portable, truly dynamic Walk-through Metal Detector capable of being rapidly deployed by only one operator within minutes. With a battery life of 40 hours, a collapsed one-person transport configuration at a total weight of 42 Kg (87 pounds), M-Scope is the only walk-through detector that can be moved in a van or even a car to any desired location.

Police departments, private security guards, night clubs, schools, courts among others worldwide use M-Scope at fixed and multiple locations to perform reliable vital crowd-scanning functions while giving operators the freedom to monitor activities around them. Use of AC (110V or 220V) or DC power, secured digital I/O control panel featuring a multi-zone 100 sensitivity settiongs give users an unprecedented array of responsive and variable security detector options.
Features
Intelligent portable walk through metal detector
Head to toe, zone Specific Detection
100 Levels of adjustable sensitivity
Digital LED Bar Graph for target strength
Assembles / disassembles in less than 5 min!
Standalone at any location with 40 Hour Battery life
Self-diagnostic function and Programmable memory
User friendly digital Keypad with security access control (Lock out)
Designed for use in demanding environments
Technical Details
Dimensions - 117cm x 87cm x 221cm (Portable and wheel-driven as 94cm x 61cm x 66cm case)
Operational temperature -20 C to +60 C (-4F to +140F)
Relative Humidity 95% non-condensing
24 Months warranty
Accessories
Protective bag/cover
Operational test piece
Y-Cable Assembly
Bases with built-in levelers
Pop Up Shelter
CW-10 Hand-Held Concealed Weapons detector
Floor Mat
Download Specification [650 KB]